No products found...

3D projector
Because our eyes are not in exactly the same place (on average there is a distance of about 6.5 cm from pupil to pupil) each eye sees the image we are looking at, from a slightly different angle. Our brain merges the two images into one 3D image with depth. This makes it immediately clear which objects are close by and which are far away. 

To see 3D, each eye must see a different image. This means that the projector has to transmit 2 images, which is why you have to wear glasses so that your brain can filter the images and make a 3D image out of them.

Since the big 3D success of the film Avatar in 2009, the demand for 3D projectors has increased enormously. 3D projectors can be divided into Full 3D projectors and 3D-ready projectors. And this is a big difference in terms of technology.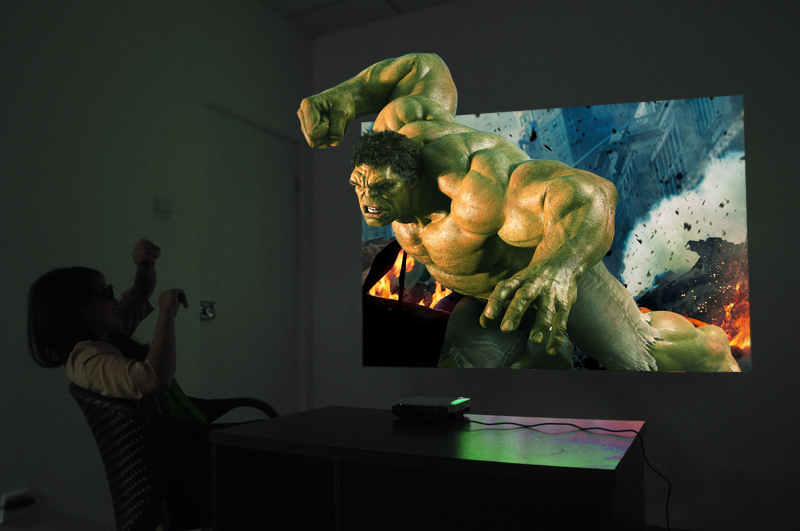 3D movie 'The incredible Hulk'.
Full 3D projectors
The Full 3D projectors can actually project the 3D content it receives. Just put on your 3D glasses and be amazed.
3D-ready projectors
3D-ready projectors are available in abundance, but these require additional hardware or software in order to display 3D. This can be a stereoscopic player or an Nvidia graphics card, for example. For film fans and gamers 3D can be an added value, but not all 3D content is transmitted in the same way, so take care to use the same 3D technique.

When the source can transmit 3D via DLP Link, Vivitek's 3D ready projectors can project in 3D thanks to Vesa.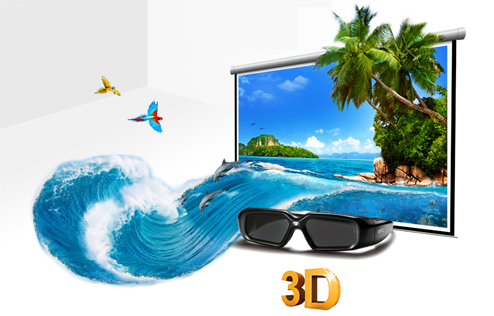 Why project in 3D
Exciting 3D projections for business presentations and teaching. With three-dimensional projections, lessons and presentations become more visual and fascinating:
For presentations of three-dimensional buildings, architectural sketches and anatomical models
For teaching that remains memorable and improves learning success with fascinating 3D content - e.g. three-dimensional representations of molecular compounds or virtual images of the earth
3D content for greater didactic success
The projectors equipped with 3D functions are an excellent choice for the education of tomorrow. After all, three-dimensional learning tools will also become more and more common in education and training. 
Why teach in 3D?
With three-dimensional projections lessons and lectures become much more visual and fascinating, they stay in the memory better and increase the learning success.
Exploring virtual topographical data
.
for three-dimensional representations of anatomical models or historical buildings
For spatial representations of geometrical figures
Video on the operation of 3D projectors
Would you like to watch an educational video about the illusion of depth in 3D images? Then watch the video from Barco on this 3D subject

.
What 3D projectors are out there?
View our range of 3D projector.
Personal advice
If you want to know more about 3D projectors or find out which projector is best suited to your situation please contact us. You can also call +3123-7440020. We are happy to help you further or to visit you to assess your situation.
Other types of projectors:
Are you not looking for a 3D projector? Below you can view our other types of projectors. 
Questions or advice about our products?